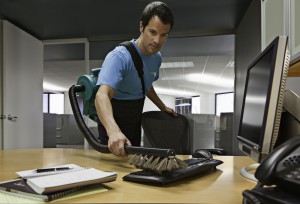 ServiceMaster Restoration and Cleaning Services provides exceptional cleaning services for the business market in Chicago. When your business needs carpet cleaning, tile & grout cleaning, air duct cleaning, window washing or other non contractual cleaning services, call ServiceMaster Restoration and Cleaning Services. All of our professional services are backed by our commitment to provide the best customer service every step of the way.
We are committed to making ourselves readily available and providing the kind of pro-active communication to ensure we can completely satisfy your unique needs and give you peace of mind. We use state of the art equipment and cleaning agents, which have been tested for safety and effectiveness in our national laboratories. All of our cleaning products are registered with the EPA. Green Cleaning products available upon request.
Location photography staging working scenes of ServiceMaster Clean business services at such locations as Baptist Women's Hospital and Archer Malmo offices, Memphis, TN.