We at ServiceMaster also offers a professional commercial upholstery cleaning service. All upholstery cleaning is undertaken on site at the client's premises. The professional commercial upholstery cleaning systems we use to undertake this work not only ensure the most satisfactory cleaning results, but often allow the upholstery to be put back into use within a matter of hours.
For all your commercial upholstery cleaning, our technicians use specially-designed products, equipment, and methods every step of the way, including initial vacuuming and spot treatment, cleaning, rinsing, water extraction, and washing and polishing frames.
ServiceMaster Commercial Upholstery Cleaning Chicago:
ServiceMaster Clean® makes carpets, flooring, and upholstery look their best. We are an industry leader in commercial specialty cleaning and maintenance programs, including:
Commercial Carpet Care
Every year, over 5,000 customers trust us to clean more than 100 million square feet of commercial carpet. Our relationships with carpet manufacturers keep us abreast of proper care techniques, ensuring your carpet's long life and enhanced appearance.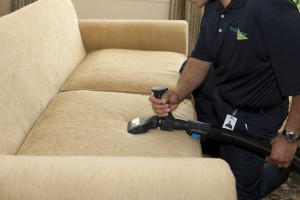 Hard Surface Floors
ServiceMaster Clean knows the proper care regimens for a variety of hard floor surfaces including vinyl, ceramic, quarry, tile, and wood.
Upholstery Cleaning
Your facility makes a statement to your customers, guests, and the outside world. Let us care for your upholstery, fabric office systems, and other fabric surfaces that can accumulate dirt, dust, and grime.
Other Specialty Cleaning
ServiceMaster Clean specializes in other types of commercial cleaning as well, including slip and fall solutions, PTAC cleaning, window cleaning, computer cleaning, and more.
ServiceMaster Cleaning by RCS
Address: 939 W. North Ave. Suite 750
Chicago, IL 60642
TEL: 312-998-7300
TEL: 773-992-9122
FAX: 888-990-2177
Email: Info@ServiceMaster-RCS.com