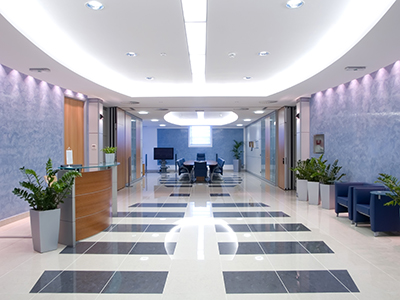 ServiceMaster Restoration and Cleaning Services provides commercial tile and grout cleaning as well as water, fire, and smoke damage restoration services.
At ServiceMaster Commercial Tile & Grout Cleaning, our six-step tile and grout cleaning process gets your grout clean and keeps it looking its best. It can be used on both ceramic and porcelain tile and is ideal for kitchens, baths, counter tops, and other tiled areas of your home.
Our Tile and Grout Cleaning process includes:
A preliminary inspection of your tiled areas is conducted to assess the best cleaning method.

Spots and stains are pre-sprayed using our proprietary green cleaning product.
Dirt and ground-in soil are removed with high pressure cleaning that also rinses and extracts excess water.
Corners and baseboards are carefully cleaned.
Tiled areas are efficiently dried.
Grout lines are sealed to preserve cleanliness and prevent long term damage (optional).
ServiceMaster Restoration and Cleaning Services makes carpets, flooring, and upholstery look their best. We are an industry leader in commercial specialty cleaning and maintenance programs, including:
Commercial Carpet Care Every year, over 5,000 customers trust us to clean more than 100 million square feet of commercial carpet. Our relationships with carpet manufacturers keep us abreast of proper care techniques, ensuring your carpet's long life and enhanced appearance.
Hard Surface Floors ServiceMaster Clean knows the proper care regimens for a variety of hard floor surfaces including vinyl, ceramic, quarry, tile, and wood.
Upholstery Cleaning Your facility makes a statement to your customers, guests, and the outside world. Let us care for your upholstery, fabric office systems, and other fabric surfaces that can accumulate dirt, dust, and grime.
Other Specialty Cleaning ServiceMaster Clean specializes in other types of commercial cleaning as well, including slip and fall solutions, PTAC cleaning, window cleaning, computer cleaning, and more.