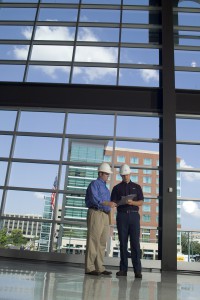 ServiceMaster RCS helps you restore your property and get back in business quickly, when disaster strikes, ServiceMaster RCS is the link between you, your customer, and total satisfaction. We minimize business interruptions by quickly analyzing the problem, providing a professional assessment of the damage, determining the services needed for a complete restoration, reviewing scope of services with the adjuster, finishing the job on time, and following up to assure total satisfaction. Let us show you how ServiceMaster RCS can help.
ServiceMaster RCS Make's sure your property is back in pre-disaster condition with our property restoration services in Chicago, and surrounding suburbs in IL. We are 24/7/365 residential, commercial, and industrial emergency property restoration services and immediate one-hour response, we're your go-to source for fire, storm, water, and mold repair.
Rely on a disaster recovery team who is always on your side every day of the year. With more than 20 years of experience, our associates are completely qualified to work with all types of insurance. With our company, your satisfaction is our number one priority
ServiceMaster RCS property restoration services include:
Fire Damage Cleanup
Water Damage Restoration
Storm Flood Emergency Mitigation Services
Smoke Soot Cleanup
Sewer Black Water Extraction and Sanitizing
Mold Remediation
Odor Control
Board-Ups Containment
Our Guarantee
The ServiceMaster Restore® Quality Restoration Vendor Guarantee
We will answer emergency calls 24 hours a day, 7 days a week, 365 days a year, and contact the customer within 60 minutes of receiving the initial call to schedule an appointment.
We will begin emergency services, when required, within two to four hours of the initial call.
We will provide a written report within 24 hours after receiving the initial call.
We will keep the customer informed, as needed, on the progress of each claim.
We will provide an estimate along with complete documentation and photos within five days of receiving the claim.
We will demonstrate our professionalism by delivering our services on time with ServiceMaster Restore® identified vehicles, uniformed and well-trained employees, and quality ServiceMaster Restore® products and equipment.
We will employ the utmost integrity in pricing and service, providing the insured with quality work and service while striving to control the cost of each job.